Feature

- Sealing system control by Servo for perfect sealing. It's comfortable for packing or sealing product such as Book, Magazine, Electronics product, CD, Box, etc.

- Servo system working effect to can flow packing and smooth.

- Feeding Product conveyor can adjust speed automatically.

- Movement feeding system by manual or automatically.

- Reader system about color, Date for product.

- Available to increase Logo and can print on plastic or film.

- High speed system and can screen product thru the mirror to see and check product inside.

- Belt can adjust the speed depend on product.

- Push tools Product (Belt) use for control distance between product for better shrink.

- Continuous working can affect to reduce cost and save film more 50% can make more profit to customer.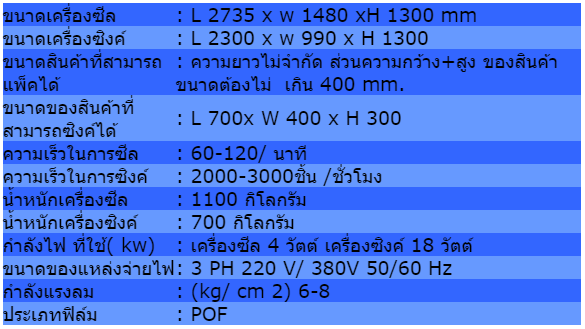 ติดต่อ-สอบถาม

☎️ โทร. 02-584-7085-7 / 091-746-1796 / 094-830-9567
Line id : @skpinterpack (ใส่@ลงไปด้วย)