Fully Automatic Outerbag Packaging System

Feature

Fully Automatic Outerbag Packaging machine can install to connecting with others packing machine by feeding conveyor, error product checking, Product counting, Arrange the products in a beautiful order, bring to plastic bag and seal bag. This process is automatic working all process with 1 human control.



Specification

- Speed up to 70-80 pieces/minute

- Available to arrange for a dozen (12 Pieces) or up to 13 pieces per 1 Pack

- Motor speed can control

- Machine working control by PLC.

- Servo motor system

- Touch screen working on 7 inches

- Stainless steel structure



Specific information

A. Filling product system and error product prevention

1. Filling product by conveyor.

2. Speed conveyor control by inverter.

3. 3 Phase, 415 Volt for motor.

4. Prevent error for stacking bag and empty bag by use air system. (SMC Brands)

5. Machine dimension width 1 meter, Length 2.6 meters and high 2.166 meters.



B. Product conveyor system

1. Speed up to 75 pieces/minute

2. Product arrangement by twin servo motor

3. Counting and checking product by OMRON censor and control by PLC. (Panasonic Brands)



C. Filling product system

1. Working by High speed servo motor (Panasonic Brands)



D. Sealing Bag System

1. Speed Sealing Bag: 7 Bags / Minute

2. Sealing power about 200 Watt with OMRON Brands temperature control. PLC. Control product conveyor system with monitor touch screen about 7 inches. (Panasonic Brands)



E. Discharge conveyor system

1. Motor power 200 Watt. 3 Phase 415 Volts.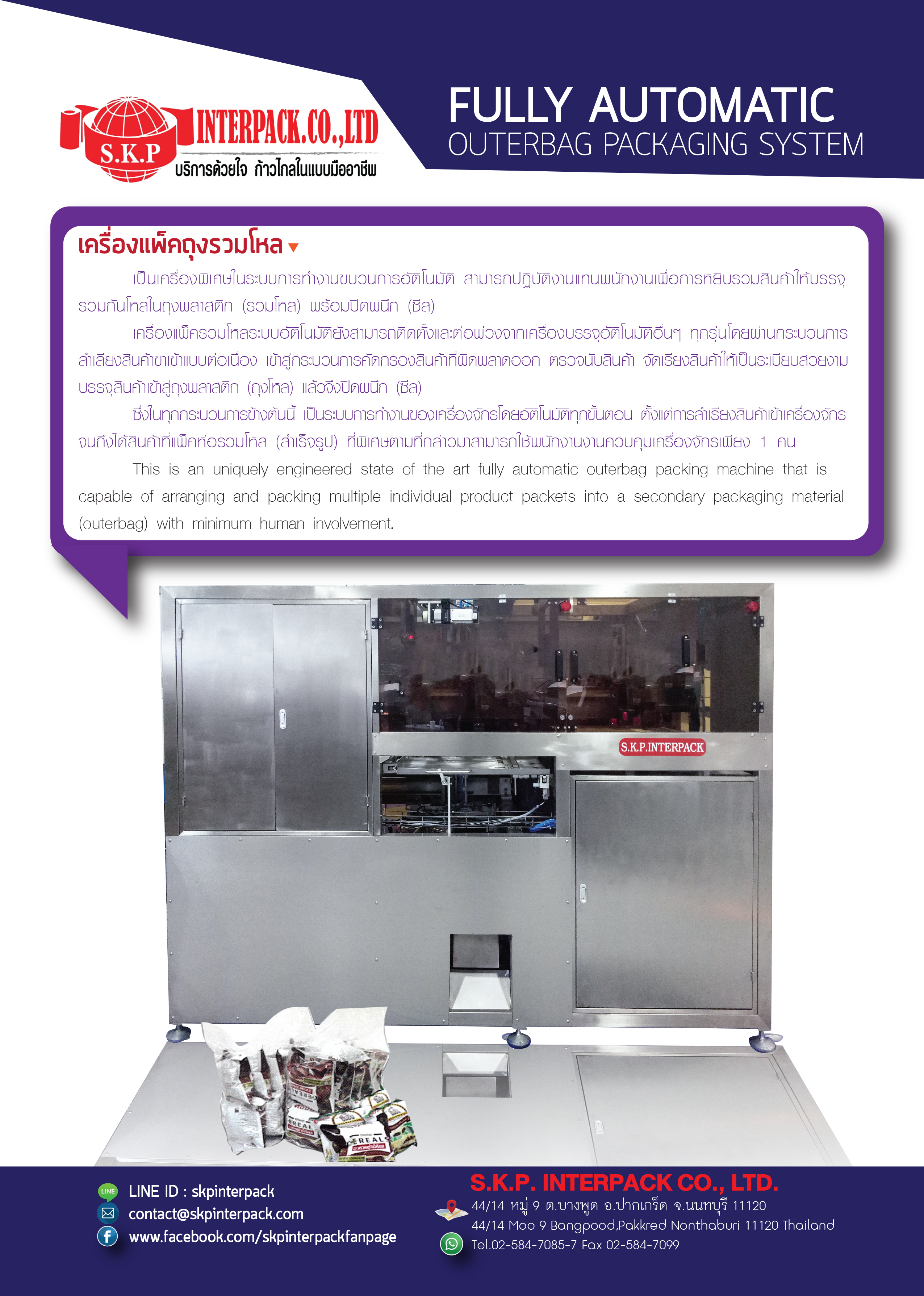 ติดต่อ-สอบถาม

☎️ โทร. 02-584-7085-7 / 091-746-1796 / 094-830-9567
Line id : @skpinterpack (ใส่@ลงไปด้วย)